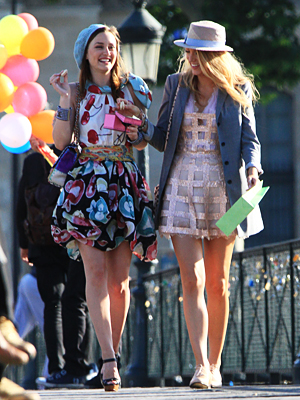 Remember in the episodes of Sex & the City titled: An American girl in Paris & thinking Carrie your so LUCKY! The fashion, the city, the food, the men!!?? Well for those of you who have not seen SATC or are too young to know what it is, then Gossip Girl is defiantly this generations equivalent to SATC, & that envious moment will be experienced at the beginning of season 4. Instead of it being one girl all alone in Paris, its two American girls enjoying the city (with most likely A LOT of drama & gossip) and by the looks of it GG season 4 will be as fashion packed as any SATC episode or movie.
Personally I CANNOT choose who's outfits I prefer. Blake Lively aka Serena Van der Woodsen shows off her stunning figure and 'those' legs in some gorgeous outfits that would make Carrie Bradshaw envious. From incredibly hot (& short) hot pants, to high waisted flared trousers Blake does fashion effortlessly (grrrr!!) & looks every inch the chic Parisian fashionista.
Leighton meanwhile channels a much more quirkier edge to the normally very preppy style of Blair Waldorf. Her outfits use a number of bold colours and prints- noticeably the Moschino cherries & apples shirt & skirt combo that some may say look a little too much, however I LOVED the frilly/girly structure to the outfit. However the thing that Leighton's character does so well? With out a doubt-evening dresses & I was not disappointed. The fabulous orange Oscar de la Renta dress completely captures the 'city of love' element that Paris offers (however I'm not sure on the fuchsia clutch) & the black encrusted dress looks chic and oozes Blair.
So over all I'm loving both characters styles & I would defiantly take different outfits from each character and adapt it to my style. Who's your favourite GG?
I am really looking forward to the new season and what makes GG, well Gossip Girl!
If I was an English girl in Paris I would LOVE to be there with Chuck aka Ed Westwick ♥ & by the looks of things he survived the shooting at the end of the last season, however knowing the show they might put some spin in the storyline where Chuck is actually dead (though PLEASE MAY THAT NOT HAPPEN!!)
So what can I say? Je t'aime Gossip Girl
♥